Bing Ads was rebranded a few years ago to Microsoft Ads and, while the name change was just a slight annoyance for search marketers, it signalled a growth strategy that we are seeing come to fruition over time. Bing/Microsoft Ads is the often overlooked platform as most advertisers favor Google Ads for its reach.  BUT, Microsoft Ads drives great results, for an often lower CPC and CPA as well. Anecdotally, we are sometimes unable to reach our allotted (much less than Google Ads) spend in Microsoft Ads because the user demand just isn't there and need to readjust projections & budgets.  While Bing is still dwarfed by Google, its market share is increasing.
.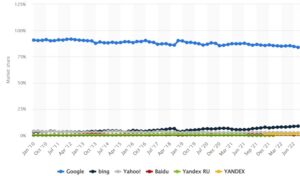 Recent Microsoft Ads Changes
Since rebranding in 2019 the company has taken steps to establish itself as a bigger player. In 2021, Microsoft purchased LinkedIn – as a result, Bing is now the only (non-LinkedIn) platform that offers LinkedIn Profile Targeting capabilities.  Microsoft ads can appear on Bing search, Yahoo search + properties, AOL search + properties, MSN, XBox and, as of late 2021, Xandr – "a data-enabled technology platform with tools that help power a diverse ecosystem connecting marketers and media owners through first-party, data-led advertising solutions across its network." A new Netflix partnership was also launched this month where advertisers can use Xandr to purchase ads on Netflix.
Microsoft Ads Changes Coming in 2023
Gaming is another projected big area of expansion for Microsoft Ads as the company is actively working on acquiring Activision Blizzard. All of these new acquisitions and the growth of Bing and Microsoft Edge's market share in general, point to a rosy outlook for both Microsoft and for advertisers looking for another non-Google channel to reach a broader audience.  The challenge will be for Microsoft to present an easy to use "one stop shop" interface for advertisers to understand a. what the possibilities for reach across the Microsoft network are, b. what makes the most sense for various business categories/sizes of advertisers, and c. the ability to demonstrate ROI for advertisers.
Need help making sense of all of these options?  Learn more about our Microsoft/bing ads management services.